CB-TX On The Go & CBTX Business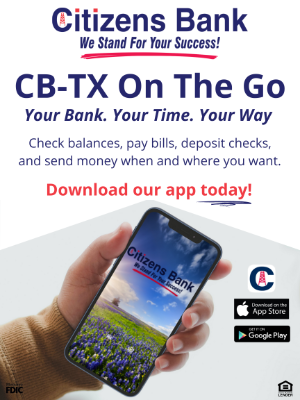 Access your Citizens Bank accounts straight from your mobile device. 
Deposit checks, check your balance, pay bills, transfer money and enjoy several other features at your fingertips, 24 hours a day. 
Whether you are at home or on the go, bank on your schedule with CB-TX On The Go & CBTX Business and get the convenience and security of Online Banking from almost anywhere.
Sign up Today! 
In order to utilize Mobile Banking, you must be enrolled in online banking.
Once you have enrolled in online banking you are ready to sign up for Mobile Banking. Just download our mobile app and enroll from your phone. 
Retail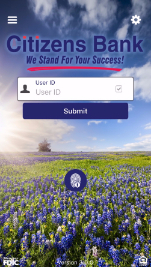 Business 


Mobile Banking is an extension of your Online Banking account.  When you are prompted to sign in, you will use the login information (user id and password) as your online banking account.

If you have any questions, contact our Help Desk at (903) 984-8671 or stop by your local Citizens Bank
Banking Center
.
Mobile Banking Alerts
Mobile banking alerts are customizable and can keep you informed of just about everything that happens with your account.  Text alerts are easy and a convenient way for you to stay on top of your account activity. 
With text alerts, you can get personalized information whenever and wherever you want it.

Mobile Deposit: CB-TX On the Go
Depositing checks is safe, fast and easy when using the Mobile Deposit feature inside the Citizens Bank Mobile Banking App: CB-TX On The Go & CBTX Business. 
After you have enrolled in Mobile Deposit, with our Mobile App, you can:
Deposit checks into your account from your phone.

Endorse the back of the check with your signature and "for mobile deposit only"
Take photos of the front and back of your endorsed check and submit
Get confirmation on your phone for each successful deposit
Save time with fewer trips to an ATM or Citizens Bank banking center.
If you have any questions contact a customer service representative at (903) 984-8671 for further information regarding Mobile Deposit. 
* Account must be open more than 90 days
* No non-sufficient or overdrafts in last 12 months
* No loan payments late more than 30 days in last 12 months
* No deposit items returned in last 12 months.